As promised here are my nails for Children in need. I was inspired by the charities mascot Pudsy Bear and the bandage he wears, I painted the bandage design on all my finger nails and Pudsy on my thumb nails.
Below is a list and a picture of what I used to create this mani.
Base Coat: Wet and Wild
Finger Base: George - Natural White
Thumb Base: W7 - Neon Yellow
Spots:
George - Cloudless Sky
Rimmel - I love lasting colour - Green Grass
Barry White - Real Red
W7 - Neon Yellow
Pudsey: Barry White - Black
Top coat: Rimmel Pro Super wear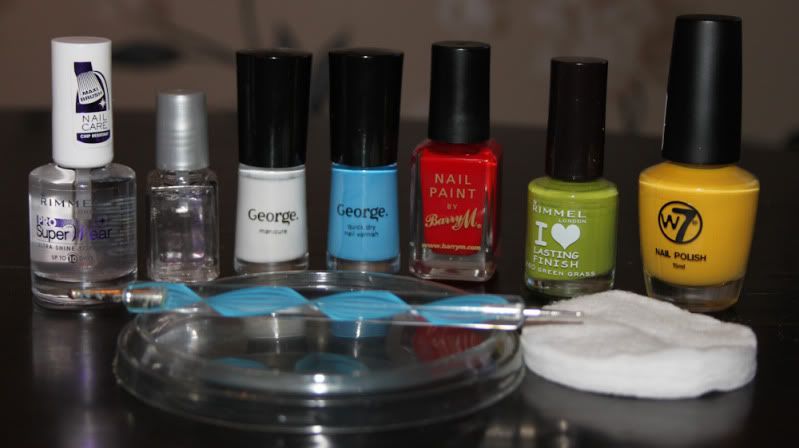 I applied the white to all my fingers and yellow for my thumbs both polishes are a bit watery so need 4 coats to be opaque, a lot of drying time is needed here. Afer the base was dry I applied dots on my fingers similar to the ones on Pudsy's bandage, on my thumb I applied some white polish diagonally across my thumb to form a bandage then applied some dots , similar to the ones on my fingers, i added the final touches to my thumbs to form Pusey's face then waited a long time over half an hour then applied my top coat, as you can see there was still some smearing so would love it if someone has some advice to prevent this. I hope you liked my mani today it was a labour of love and my very first ever nail art better late than never.
Here is another a pic of the mani.