Hi all, well by now I will be sunning myself beside a pool in Ibiza, hopefully getting plenty of R and R but knowing me I will be checking out the Geology in the area!
Todays guest poster I met through twitter, I love her polish reviews and photo's which are colour accurate so you know what your buying! So without further ado over to Marisa.
Hi everyone!! I'm so excited to have this opportunity to do a guest post on Joanne's blog. I am in love with all of her manis, so it's truly an honor!
When I was trying to figure out what to do for this post, I thought about the fact that Joanne likes blues, greens, and purples. I thought about doing a water marble, but that was a fail, so I decided to go with a layering combo. And I know Joanne loves a good holo, so I included one ;0).
I used OPI Fly as my base, a teal creme from OPI's Nicki Minaj collection, and layered it with Ozotic 534, a gorgeous holo. On my ring finger, I free handed the Ozotic diagonally for an accent nail.
For this manicure, the base I used was Essie All in One Base and my top coat was Seche Vite Fast Dry.
I really loved this combination!! The Ozotic really transformed this mani and I couldn't stop staring at it. I hope you all liked it as well.
Thanks again for the opportunity to do this post Joanne!! Hope you're having a great time on vacation ;0).
WOW, this was wonderful Marisa I do loves me a Holo or two :D and blues too I am spoilt I will no Doubt have one on my fingers now :D, Thankyou so much for standing in for me, If you haven't seen Marisa's blog , Why Not ? get over there have a look see!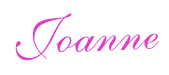 Have a great day thanks for stopping by and reading!