This was another one in the challenge that I knew what I wanted to do but wasn't to sure how to do it , the technique I used I have only used once before and I hope that it shows what I am trying to do!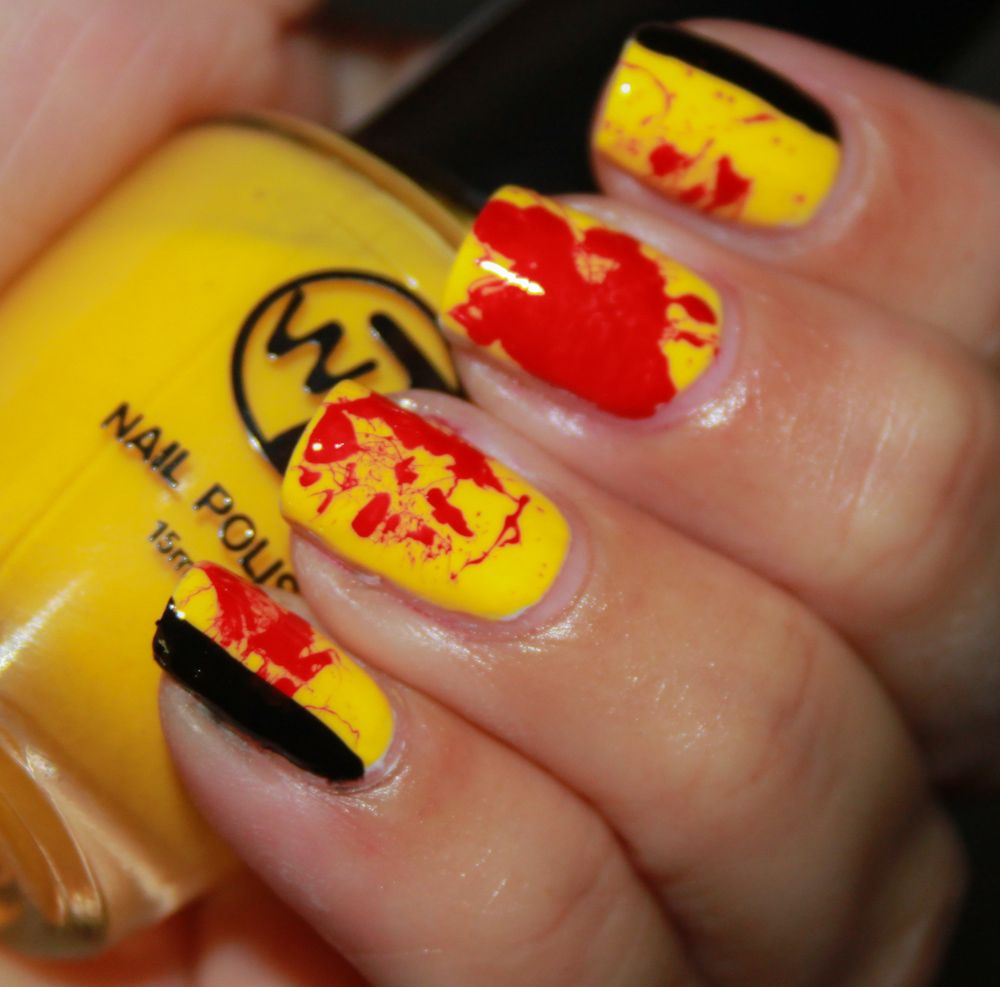 So did you get it ! Kill Bill I/II oh yes I love a good fight film with plenty of blood and guts and these two are full of it, This film is about The Bride whom on her wedding day she and her family are gunned down by unknown assassins, but the Bride unfortunately for the assassins survives the attack and sets about on a bloody killing spree to seek revenge !
For this mani i used:
W7 - Neon Yellow
Barry M - White
No7 - Devil's Delight
Color Club Stripper - Black
A Straw and plenty of sellotape.
First I applied a coat of Barry M white on all my nails, then I applied two coats of W7 , Neon Yellow to all my nails , this represents The Brides outfit during the film! Next using the black stripper I applied to lines one down my pinky and one down my pointer this is also on The Brides outfit.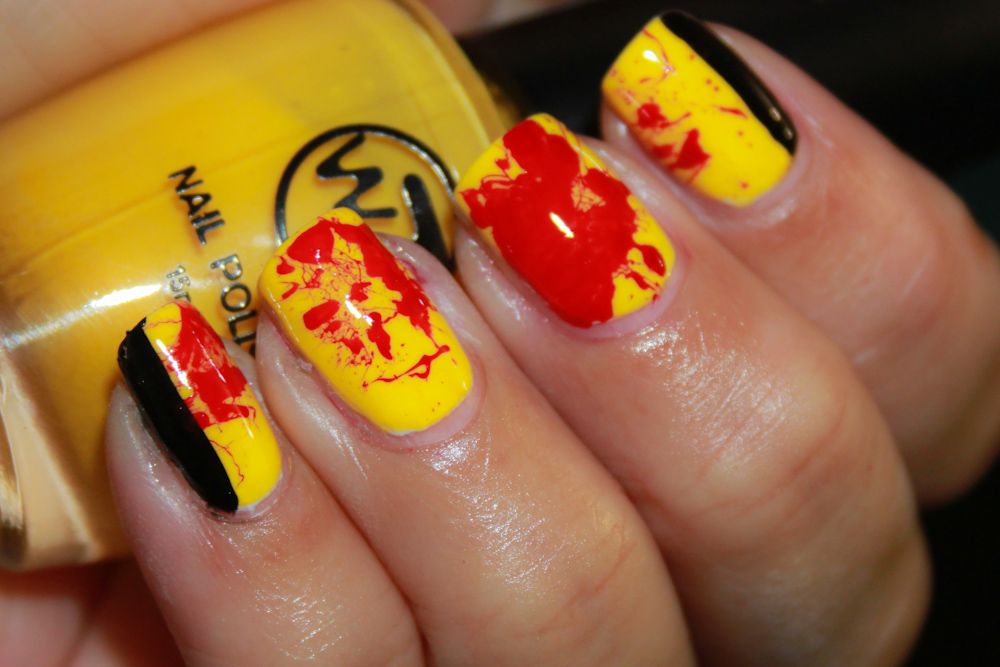 Next I taped my fingers off one by one and using the straw I applied the No 7 , Devils Delight this of course represent the blood that she splatters allover.
I hope you like this as much I enjoyed doing it , I do love a good slasher movie :D
Untrieds:
No 7 - Devil's Delight
Cutex - Cornucorpia
Angelica- Lemoncello
Nicole by OPI - One Time Lime
Barry M - White
Orly - Goth
OPI - Number One Nemesis
W7 - Gold Dazzle
Bourjois - Pink Glitter
W7 - Green Dazzle
Kiko - 255
Kiko - 341
Kiko - 336
Angelica - Sorbet
W7 - Pink Mirror
Revlon - White on White
Revlon - Blue Lagoon
Nicole by OPI - Strike a Pose
Essence - Gold Fever
Cult Nails - Living Water
Gosh - Purple Heart
China Glaze - Rainbow
Barry M - Bright Pink
Elf -Twinkle
Nicole by OPI - Paparazi don't preach
Nicole by OPI - My Lifesaver
Kiko - 339
Color Club - Kiss My Mistletoe
Color Club - Holiday Splendor
China Glaze - Four Leaf Clover
Cult Nails - Feelin Froggy
LA Colors - Metallic Green
Kiko 277
W7 - Neon Yellow


Check out what movie has inspired the other ladies: