Ok so today is about the book, well at the moment I am reading
Inheritance
which is the last book in a series of books by Christopher Paolini, it is about an ordinary farm boy who finds a dragon egg which hatches and he becomes a Dragon Rider, there starts the battle of Eragon and Saphira against King Galbatorix and his dark forces. I am glad that this book is finally out there but this also means the end of the road of the inheritance cycle. So here is my mani based on the dragon Saphira!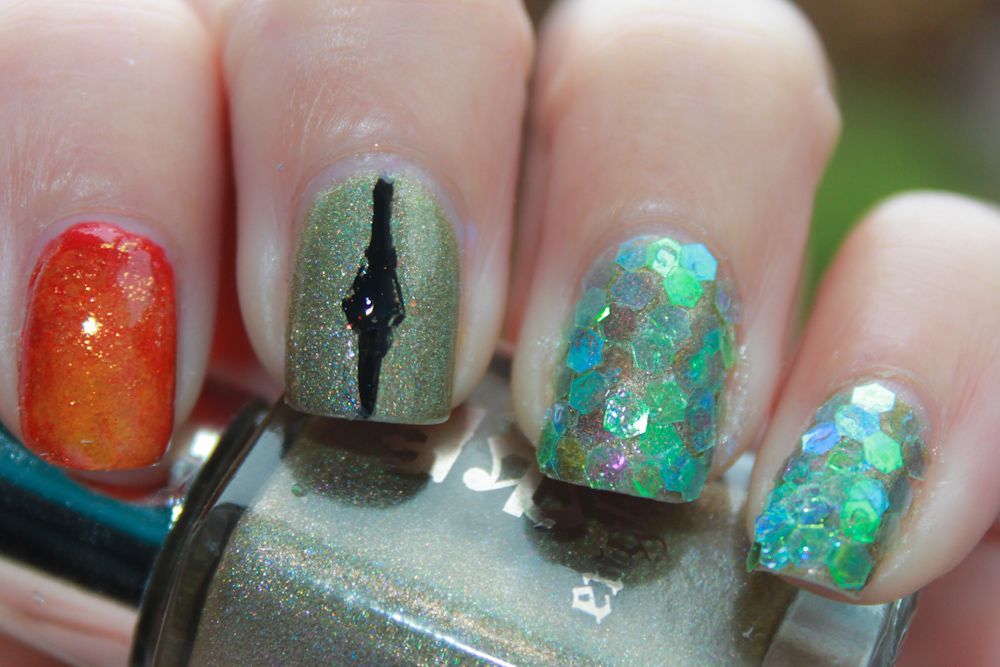 For this mani I used:
a- england - Princess Sabra
China Glaze - Riviting
Rock star - Crowd Surfing
Color club Strippers - Yellow/Red /Black
Glequins from
Viva La Nails
First i applied two coats of a-englands Princess Sabra to all my nails except my pointer nail which I applied one coat of China Glaze - Riviting. Next I applied the Glequins to my little and ring finger to represent Saphira's scales. Then I drew her eye on my middle finger with color club black stipper then covered it with Rock Star - Crowd Surfing.

Then for my pointer I did a gradient with the red and yellow stripper to represent the fire that Saphira breathes at her and Eragons enemies! How really love how this turned out!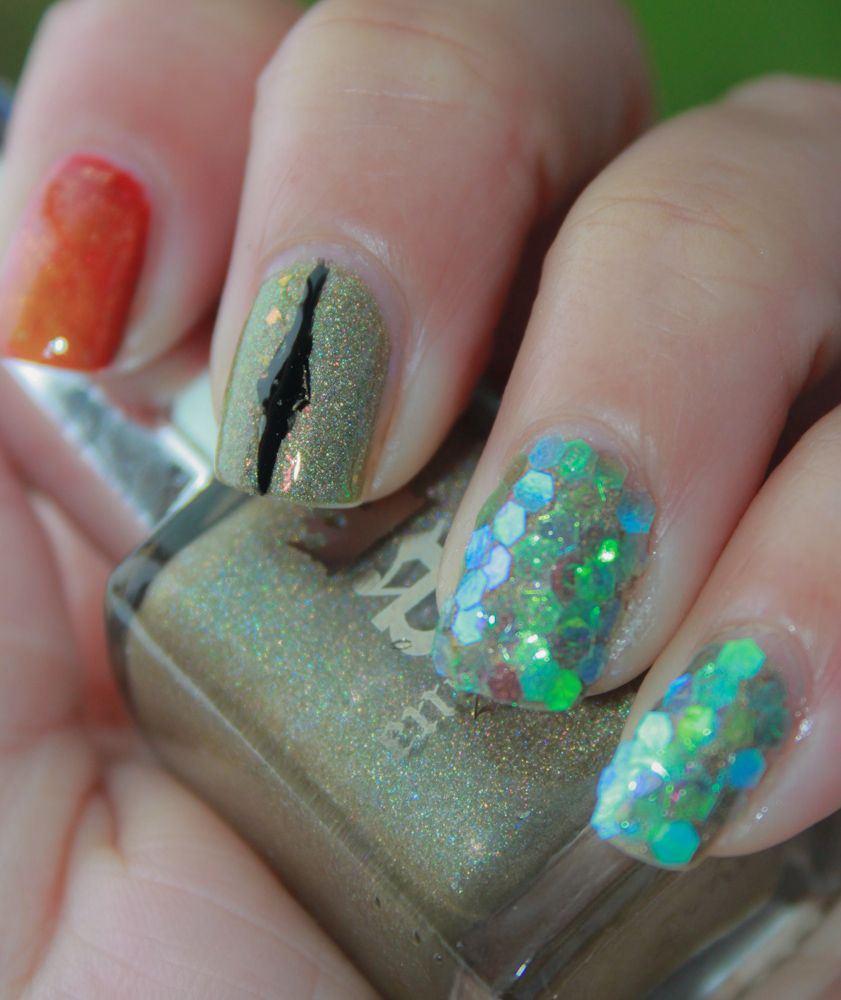 I bought my Glequins from
Viva La Nails
, they are called Dazzlings and they are 1.45 a pot bargin they also come in a variety of shapes and colours!
Untrieds:
No 7 - Devil's Delight
Cutex - Cornucorpia
Angelica- Lemoncello
Nicole by OPI - One Time Lime
Barry M - White
Orly - Goth
OPI - Number One Nemesis
W7 - Gold Dazzle
Bourjois - Pink Glitter
W7 - Green Dazzle
Kiko - 255
Kiko - 341
Kiko - 336
Angelica - Sorbet
W7 - Pink Mirror
Revlon - White on White
Revlon - Blue Lagoon
Nicole by OPI - Strike a Pose
Essence - Gold Fever
Cult Nails - Living Water
Gosh - Purple Heart
China Glaze - Rainbow
Barry M - Bright Pink
Elf -Twinkle
Nicole by OPI - Paparazi don't preach
Nicole by OPI - My Lifesaver
Kiko - 339
Color Club - Kiss My Mistletoe
Color Club - Holiday Splendor
China Glaze - Four Leaf Clover
Cult Nails - Feelin Froggy
LA Colors - Metallic Green
Rock Star -Crowd Surfing
A- england - Princess Sabra
Check out what the ladies are inspired by: