Hi all! Today I have a bit of a cult fest for you, for those of you who don't know Cult Nails is having a month of giveaways, they will be giving away all sorts of cult nails goodies all you have to do is enter the fun and games
HERE
.
So last week it was the Twitter giveaway, where you had to come up with a tagline or create a Cult Nails ad using your own nails or Cult Nails pictures , so you don't even have to own any Cult Nails products , but if you don't I strongly urge to buy at least one they are an awesome brand, they have some very unique colours and finishes, at the very reasonable price of 10 dollars which is about £6 a bottle . So anyways I entered the comp and came up with a real lame tag line but you never know!!!
So here is the Tagline : Beware even the Enigmatic will succumb to the Seduction of the Cult !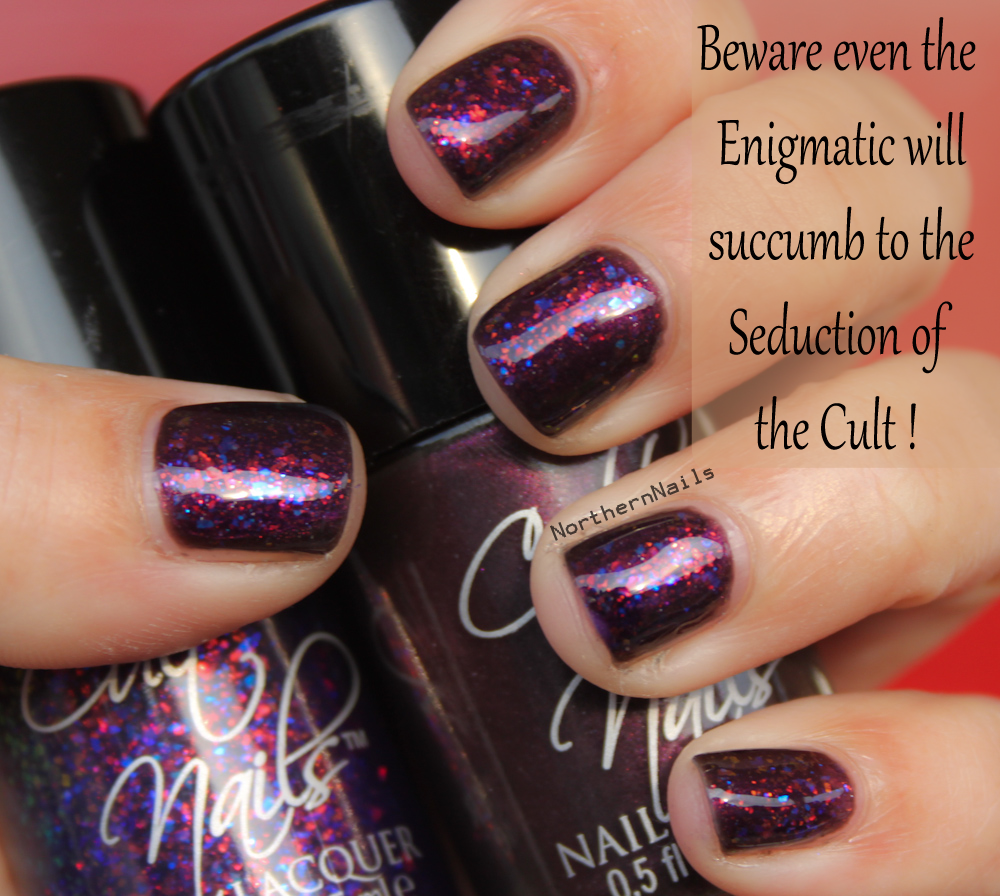 If you hadn't guessed I used :
Cult Nails : Seduction and Enigmatic
Top Coat: NYC- Classy Glassy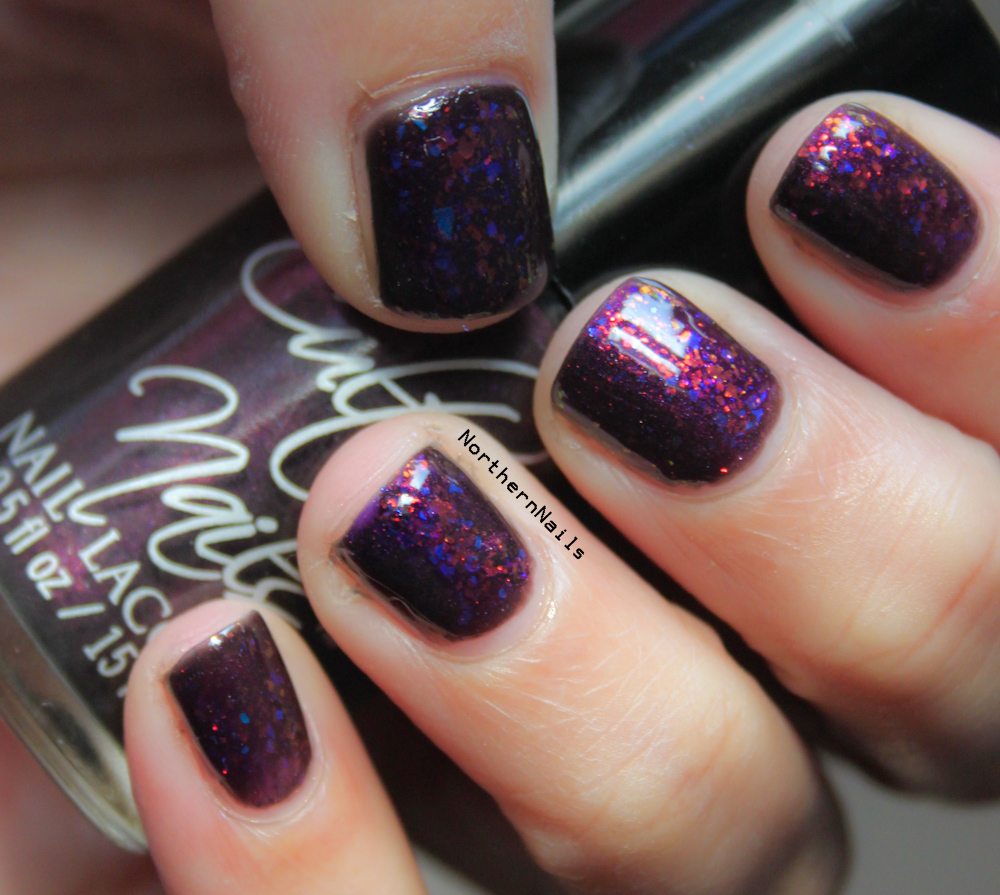 First I applied three coats of Enigmatic on my nails , this is a perfect fall /winter shade, I didn't get a pic of it on it own, that's a great excuse for another post :D , anyway Maria over at
Cult Nails
describes it
as a

brown-based purple with silver shimmer that draws glints of red, blue, purple and pink, it really is a stunner also this is a Limited Edition polish so grab it while you can .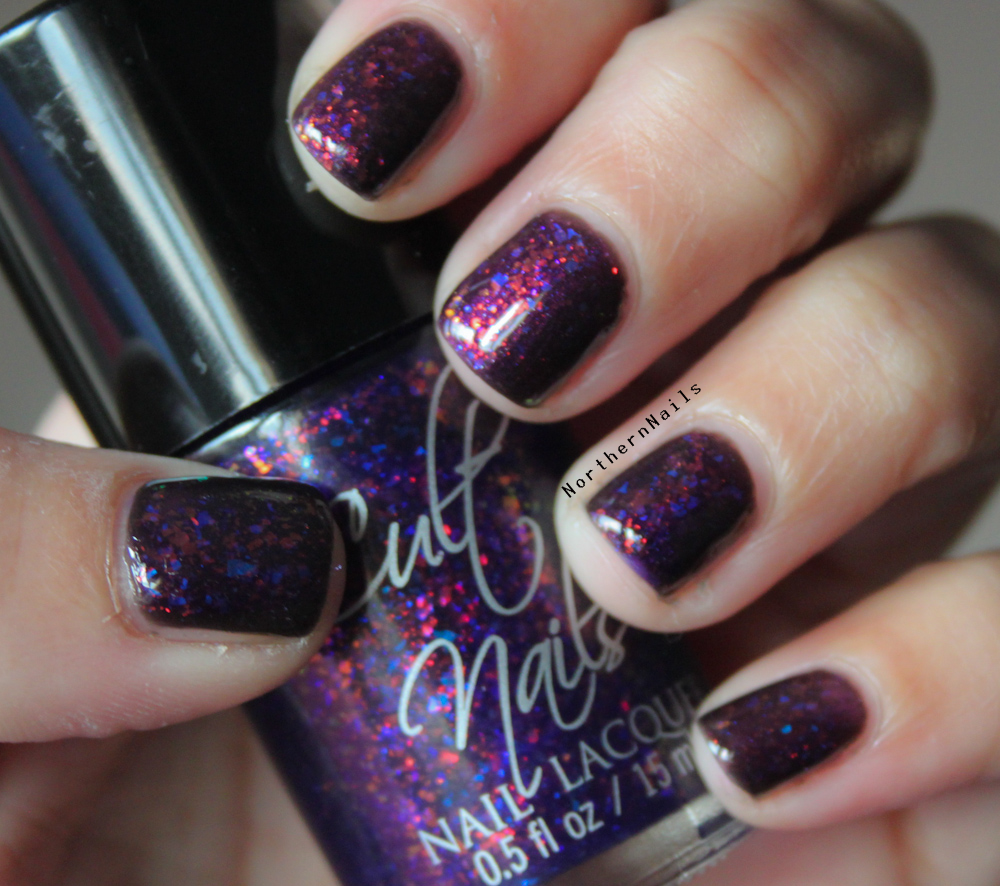 Next I applied two coats of Seduction and wow it looks great!
Cult Nails
says
Seduction lures you in with her purple sheer base and leaves you speechless by adding red and blue flakes that offer a slight flash of color shift to gold at certain angles. I imagine this would look awesome over black , I wonder what I will be trying!
Anyways Ladies please go and check out the Cult Nails Blog and watch out for the next Installment of Comps!

Did I win I here you say???????? Nope but it was pretty lame tagline :D